Xihu Corporation has set up 9 subsidiaries to manage transportation services, including 4 subsidiaries for taxicab fleet operation, long-distance buses and tourist chartered bus,4 subsidiaries for public bus service and 1 subsidiary for vehicle rental service. As securing steady operation of traditional road transportation for passengers, Xihu offers the customized transportation services, which includes taxicab fleet, long-distance bus, tourist chartered bus, public bus and vehicle rental. To address the needs of modern society, our service is technically supported by one unique online platform of "Xihu travel", which allows customers to book tickets and charter tour bus online . The advanced platform has integrated the "network of vehicles" and " internet+". At meantime, Xihu is committed to providing solutions for urban passenger transportation development. We are the shareholder of Shenzhen Eastern Bus Co.Ltd. In addition, we have also cooperated with many other provincial and municipal state-owned enterprises, to continuously improve the public transportation service. The joint efforts have created Xihu with a sophisticated cross-cities and urban public passenger transportation network. The innovative and customized operation mode has maintained Xihu's leading position in Shenzhen public transportation sector.
Taxicab Service
As the mission dedicating to becoming the industrial benchmark for transportation service, Xihu have made all the efforts to build Xihu taxicab service brand. The key to secure the safe operation in Xihu is to establish strong corporate governance and safety management mechanism. In Xihu, we require our drivers to have good service manner, matured driving experience & skills and familiarity to traffic law. This requirement aims to provide our passengers with safe, reliable and convenient service. The taxi sector is jointly managed by Shenzhen Xihu Corporation Limited and Shenzhen Zhongnan Car Co., Ltd.TheXihu taxi brand has become a benchmark in Shenzhen taxi industry, attributed to its outstanding service and standardized management. High praises have been given by the authorities, competitors and Shenzhen citizens. Since 2014, Xihu has been awarded with the honorary title of "Top Ten Taxicab Enterprises" for many consecutive years. With years' development, Xihu has topped and reputed as the largest all-electric taxi operator in the world, with 3500 electric taxis and more than 6500 taxi drivers in operation.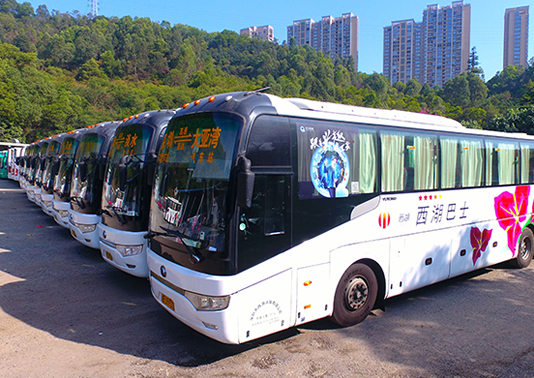 Long-Distance Transportation Service
The operation management of long-distance passenger transportation service is undertaken by Shenzhen Xihu Transport Co., Ltd. and New National Line group (Shenzhen) Transport Co., Ltd.
The two companies are currently operating 18 long distance passenger routes, including 300 cross-city charter coaches and one county-level route. We provide direct transportation services to connect Guangzhou, Dongguan, Huizhou, Zhongshan, Zhuhai, Jieyang, Wengyuan and other cities within Guangdong Province, with 649 shifts and 10000 passenger trips per day. In addition, 3 stations have been built by the companies. In 2019, two new cross-city bus routes were launched, boosting the long-distance passenger service at full coverage of Guangdong province.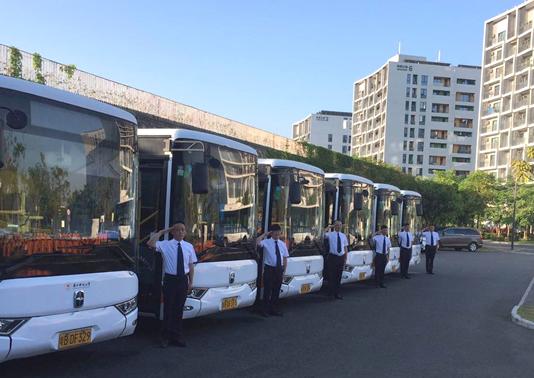 City Public Bus
Xihu has set up 4 subsidiaries to manage and operate city public routes, including Beijing New National Line Passenger Transport Co., Ltd., New National Line Group (Huizhou) South China Transportation Co., Ltd., Huizhou Dayawan Bus Co., Ltd. and Shenzhen Qianhai Green Transportation Co., Ltd. So far, a total of 54 operating licenses of public transportation have been obtained, including 25 routes in Beijing and 29 routes in Huizhou. More than 1000 vehicles have been placed in service, mainly across in Beijing and Huizhou. The company owns more than 1000 public bus carriers, of which 70% are environment friendly and powered by renewable energy.
As the shareholder for both state-owned Shenzhen Eastern Public Transportation Company and Shenzhen Western Public Transportation Company, Shenzhen local public passenger carriers are being steadily operated and growing.
Tour charter and car rental service
Our tour charter service is operated and managed by Shenzhen Zhongnan Service Bus Co., Ltd. and Shenzhen Zhongnan Car Rental Co., Ltd. As the 2nd grade national certified transportation enterprise, Shenzhen Zhongnan Service Bus Co., Ltd was awarded as Shenzhen backbone tour charter operator for three consecutive years. Both companies provide different types of vehicles, including car, limousine and bus. Xihu provides the reliable options of company shuttles, business, tour charter and vehicle rental for Shenzhen municipal government, Shenzhen Airport, Tencent, Yantian International, Huawei, Hengda and ZTE. Cooperation with governmental authorities and prestigious enterpirses has won Xihu great fame and reputation.
Copyright © 2019 Shenzhen Xihu Corporation Limited. All Rights Reserved