Thanksgiving Father's Day丨A full mark of love is given to him. Happy Father's Day!
2021-06-19
Summary:Father's love is like a mountain.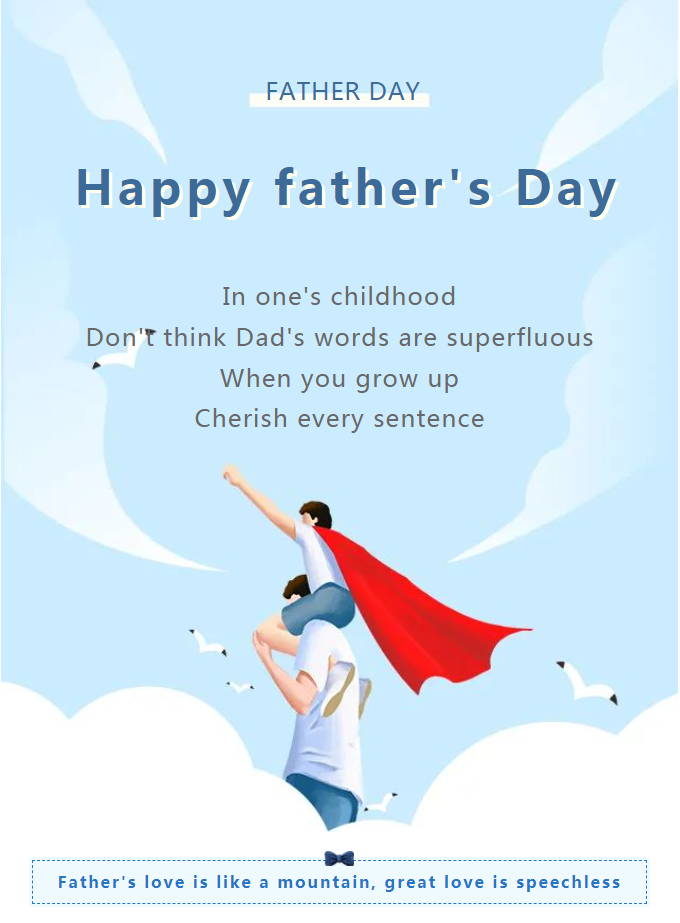 May the sun shine in June
Shine on father's kind smile
May the June drizzle
Nourish father's broad heart
father
Happy Father's Day
I love you
Father's love is like a mountain, solid and stalwart
Father in our lives
It has always been the existence that gives us peace of mind
Father's words are magical
Every time I listen to it, my courage will increase again
Whenever we lose our way
Looking at father
Found the way again
When I was young
Dad is superman, omnipotent
It seems that all the problems are not a problem
I found out when I grew up
Father is not the "superman" in our imagination
Time may bend my father's back
But what remains unchanged is the deep love of my father
What we see is the strength of the father
Father always hides his weaknesses and weaknesses
He always gives silently without saying hard work
Every step of our growth
Are guarded by my father
The breadth of the world we see today
It's the height that my father worked hard to support
Every father does his best
Although "highly cold"
But he may just be bad words
Father's love may be silent
But never leave
Father's Day is coming quietly,
Let us in this holiday of grateful father's love,
Say sincerely to my father:
"Dad, happy holidays, I love you!"
Thank you for being there along the way,
My almighty dad!
Father is to guide us
Copyright © 2019 Shenzhen Xihu Corporation Limited. All Rights Reserved